Description
"EG Tool for Windows" is software specifically for the above ELECOM gaming mouse and keyboards.
Installing this software will enable the various function settings such as functional assignment of each button of gaming mouse and keyboard, and adjusting the LED lighting.
* For installation instructions, please refer to the manual for each product.
Depending on the mouse manufacturing period, a firmware update may be required.
Please check "Maintenance" at the bottom of the settings screen in the EG Tool and update the firmware if newer firmware is available.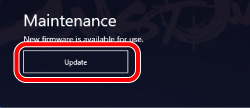 Download
Be sure to read the software license agreement carefully before downloading the file.
Downloading the file assumes that you agree to this agreement.
* No technical support is provided for this software outside of Japan. Technical support is only provided in Japanese.